ALMAAHH and MFAH collaborated for a call for proposals to commission six Houston Latinx artists to be selected to each create an Alebrije-inspired temporary sculpture to be displayed in the Cullen Sculpture Garden at the MFAH, during the fall festival scheduled for November 5th, 2023, on view through November 12th, 2023.
Read more about the selected artists below.
_____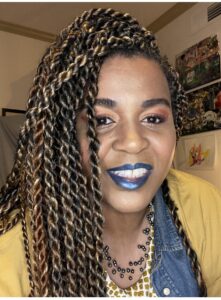 Krystle Holnes, a visual artist from Panama City, Panama, explores human experiences through her art. Growing up in an Afro-Caribbean household, she immersed herself in various cultures and art forms. From ballet to gymnastics and sewing, her creativity knew no bounds. Inspired by her heritage, Krystle's artwork serves as a social commentary on the treatment of Black diasporic people, portraying the power and emotion of dance. Her expressive colors and choreography capture the viewer's attention, evoking feelings of love, frustration, and the desire for equity.
She is inspired by the Yoruba, Panamanian, and Embera Uona traditions and will create a mermaid-tree fusion. Holnes celebrates Afro-centric beauty with vibrant indigenous fabric patterns, inviting a cultural journey for viewers. Her sculpture will resonate with the spirit of the Reina Congo from the Islas de Colon, underlining her profound connection with Afro-Panamian roots. Like the Mexican alebrije sculptures, she embodies a playful whimsy.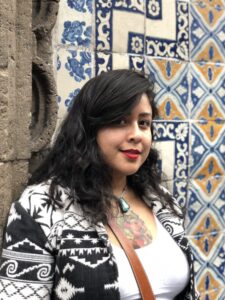 Laura de León, is an MFA Sculpture candidate at the University of Houston where she is also an art instructor. She has performed and exhibited in various spaces in Houston, including the Blaffer Art Museum and The Orange Show. Her interdisciplinary practice is autobiographical in nature and is motivated by traditional craft, psychology, and elements of religion. Informed by themes of lineage and time, her work draws inspiration from interpersonal relationships, the phenomenology of our connections to objects, memories, and the ephemeral.
Laura is inspired by the jaguar in Mesoamerican cultures. The Jaguar is considered a Nahual, or spirit companion that protects the soul while it moves through the earth and the spirit realms. The sculpture will be a collective collage altar.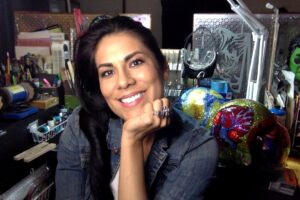 Michelle Matamoros, self taught interdisciplinary artist specializing in production design and interior design. Studying multiple art forms heavily influenced by living in New York, and Los Angeles while working in the fashion industry. Creating immersive and captivating environments by blending different artistic disciplines to push the boundaries of traditional art forms. Michele has a diverse portfolio of projects ranging from set designs, residential interiors, silversmithing and automotive painting, her work reflects a thoughtful exploration of the subtle forms of nature and the harshness of urban design.
Michelle will create a "Maripache" inspired by the racoon, renowned for its cleverness, playfulness and resourcefulness; the bumblebee, a messenger bringing the secrets of life and service; and the butterfly, symbolizing transformation and renewal.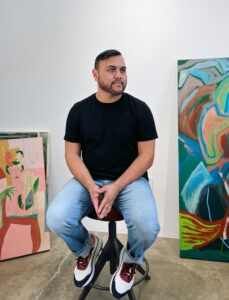 Hugo Pérez, is a visual artist currently residing and working in Houston, Texas. His practice encompasses painting, illustration, collage, and sculpture. He delves into themes of identity and accessibility. His work challenges conventional narratives of marginalized communities through imagery that centers the Latine experience. Pérez earned his BFA in design from The Art Institute of Houston in 2010. From 2019 to 2022, he was a member of Qollective, a collective of artists exploring social issues and representation through performance and installation. Pérez's work has been showcased in local exhibitions,  public art projects, and select murals.
Hugo is inspired by the story of his family's rescued Chihuahua, he will create a sculpture to bring attention to the homeless dog situation in the Houston. Pérez's color palette will be inspired by the use of indigo in El Salvador.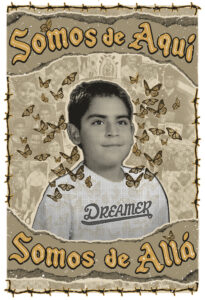 Rebo, is an interdisciplinary graphic artist specializing in printmaking, gig posters, merch and most recently murals as one half of La Onda Gráfica, a collaborative art shop with artist and partner Kill Joy. Born in a small ranchito in San Luis Potosi, Mexico, Rebo immigrated to Tejas with his family at the age of nine. Inspired by his experiences and those of others, he explores immigration and identity in his work through a conceptual use of traditional Mexican imagery. He often utilizes popular symbols and slogans that reference Mexican and Chicanx rites of passage to proclaim pride in his cultural
identity. Rebo has also developed a series of t-shirts, merch and posters that address important issues within the current political climate, including the border wall ("Chinga tu Muro") and the status of "Dreamers". DACAmented Mexicano living in Nepantla. Soy De Aquí y Soy de Allá.
His sculpture is inspired by his studio mate living in the back of the shop, the brave Tlacuache/Opossum. "El Pequeño come fuego – the little fire eater". According to a Mazatec legend, the often misunderstood and underestimated opossum spread the fire of knowledge to humanity. Long ago Fire fell from a star and an old woman kept it for herself. The Brave Tlacuache took the fire from the old woman and carried the flame
on its tail to the people, resulting in its hairlessness. The sculpture will be as large and as bright as possible, giving homage to the brave little creature and taking inspiration from the maestros of the craft, both papel mache and wood carvings.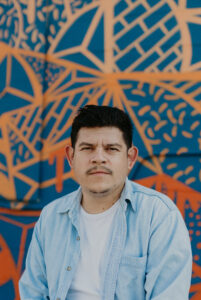 Ignacio E. Sanchez, better known as "Nacho", is a Mexican-American graffiti artist whose work is inspired by culture, color and patterns. Nacho began to explore art as a teen through drawings and illustrations. He would later expand his scale through paintings utilizing various mediums such as acrylics/ink/pastels and oil bars then graffiti art with aerosol paint. Most recently, Nacho has also delved into carpentry by making frames for his works. He graduated with a bachelor in arts from the University of Houston where he took university art courses to further develop his techniques and refine his processes. In his spare time, Nacho has taught youth art classes to Houston's underserved neighborhoods. He also supports his wife's photography business by building backdrop sets and assisting her as needed during photoshoots. Nacho is currently working as an art educator teaching Prek- 4th grade at a local catholic school in Houston Texas. Nacho currently resides in Houston's historic Third Ward where he works with local businesses and nonprofits to bring color and life to the neighborhood. Nacho Sanchez's art and style has evolved into something that incorporates various techniques and mediums in his work throughout his art journey and has been the source of inspiration. All of Nacho's artwork is inspired by real life experiences specifically around the themes of change and movement. Most recently, Nacho has been able to travel often and deeply through Mexico and South America. As a result, culture has served as a recent inspiration. The vibrant colors and energetic textures of Latin American cultures to be visually captivating and emotionally moving are reflected deeply in his work.
Nacho is inspired by his family's travel to Oaxaca and their dedication to preserve Mexican arts and culture. Sanchez will create his family's Alebrije-inspired sculpture and it will be a testament to their shared identity and the everlasting bond that unites them.