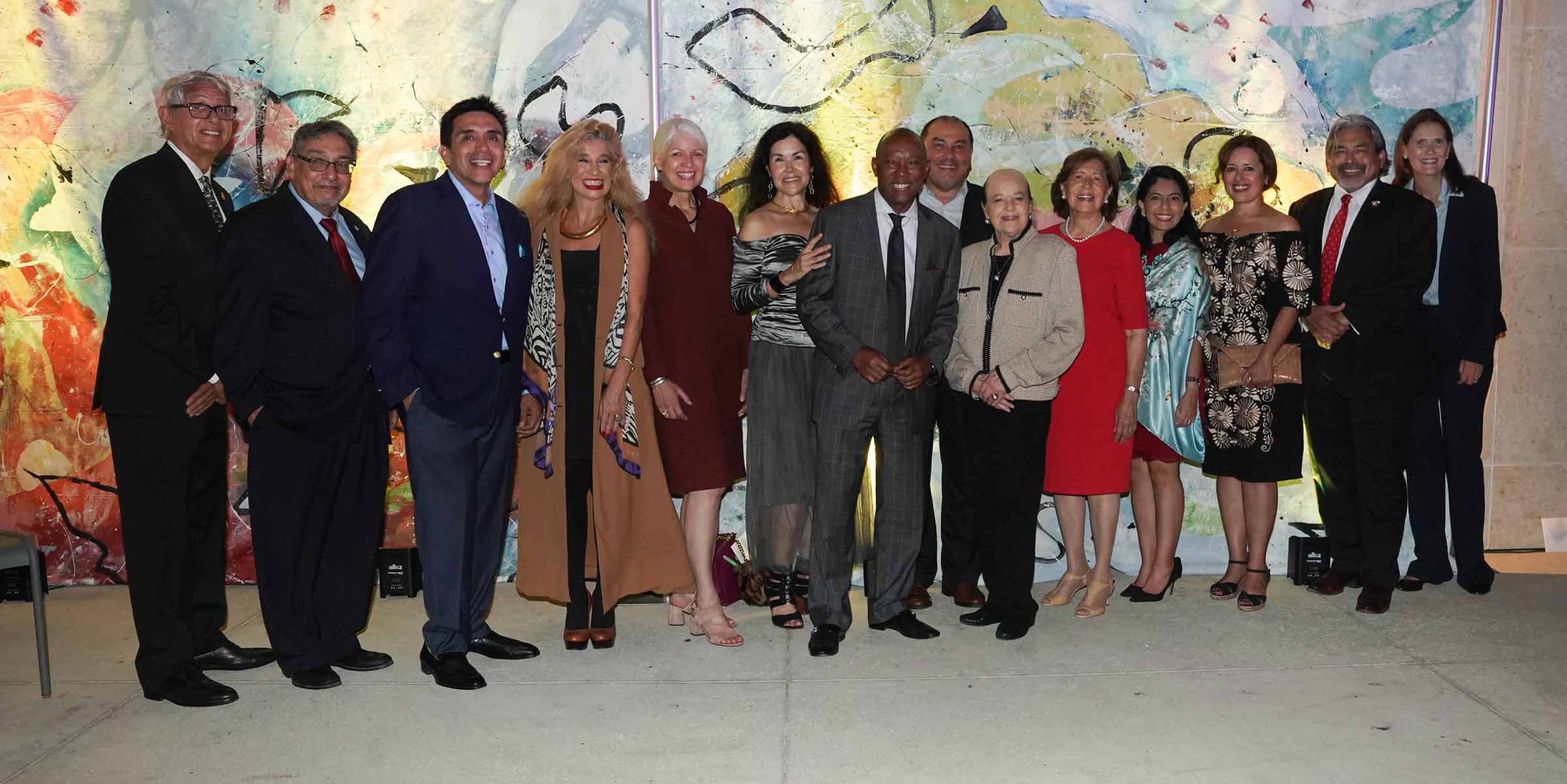 Cien Latinos por la Cultura is ALMAAHH's first fundraising campaign — and it was a resounding success! Special thanks to co-chairs Paula Mendoza and Wendy Montoya Cloonan and everyone who helped kick off Phase 1 of the project.

Donors
Mrs. Sofia Adrogué
Ms. Claudia Aguirre
Mr. & Mrs. Adelqui & Suzanne Boué
Mrs. Nory Angel & Mr. Oleg Jolic
Mrs. Elizabeth Gonzalez Brock
Ms. Patricia Cabrera
Dr. Dorothy Caram
Mr. Beto Cardenas & Mrs. Norma Bustamante Cardenas
Mr. Arturo Chavez
Dr. & Mrs. Igor & Gisela Cherches
Mr. John Steven Cisneros
Council Member Karla Cisneros & Mr. Romulo Cisneros
Mrs. Wendy Montoya Cloonan & Mr. Shawn Cloonan
Mr. Edgar Colón
Mr. & Mrs. David & Millie Contreras
Mr. & Mrs. Roberto & Claudia Contreras
Mrs. Judith Cruz, HISD Trustee
Mr. & Mrs. Nicklus & Adriana Cune
Dr. Yvonne Romero Da Silva
Mr. & Mrs. Tony Diaz & Carolina Ortuzar-Diaz
Mr. & Mrs. John & Elizabeth Donnelly
Mrs. Frances Castañeda Dyess
Mr. Al Flores
Mr. & Mrs. Felix & Nelly Fraga
Council Member Robert Gallegos
Mr. & Mrs. Manuel & Cristina Garcia Gamboa
Harris County Commissioner Adrian Garcia
Mr. & Mrs. Ray & Lisa Garcia
Mr. Roland Garcia
Mr. Tony Garcia Jr.
Mr. & Mrs. Dax & Maggie Garza
Ms. Marilu Barnes Garza
Mr. Sergio Garza
Mr. & Mrs. Victor & Beatrice (Bea) Garza
Sheriff Ed Gonzalez & Mrs. Melissa Gonzalez
Mr. George Y. Gonzalez
Mrs. Irma Díaz-Gonzalez & Mr. Roberto Gonzalez
Honorable Eva Guzman
Mr. Eugene David Herrera
Ms. Suzie Kondylopolous
Mrs. Michele Leal
Justice David M. Medina & Paula A. Medina
Mr. & Mrs. Robert & Paula Mendoza
Mrs. Arlette Molina
Mrs. Gabriella Monterroso & Mr. Rafael Serrano
Ms. Maria del Pilar Montes
Mr. Jacob Monty
State Representative Christina Morales
Mr. Daniel Morales
Ms. Terry Morales
Mrs. Tiffany Cuellar Needham & Mr. Paul Needham
Mr. Alex Lopez Negrete
Mr. Neftalí Partida
State Representative Mary Ann Perez
Mrs. Tina Arias Peterman
Mrs. Lenora Sorola-Polhman
Dr. Pamela Quiroz & Mr. James Patera
Mrs. Brenda A. Rangel
Ms. Audrey Reed
Mrs. Conchita Reyes
Mrs. Rebecca Reyes
Mr. & Mrs. Peter & Kathleen Rodriguez
Mr. David Ruiz
Mrs. Graciela Saenz & Mr. Al Castillo
Mrs. Gabriella Wise Smith
Dr. Adriana Tamez, HCC Trustee
Mr. Gerard Torres
Mrs. Norma Torres Mendoza & Mr. Plácido A. Gomez
Mr. & Mrs. Michael & Ileana Treviño
Mrs. Holly Maria Flynn Vilaseca, HISD Trustee, & Mr. Nelson Ocampo
Mr. Carlos Villagrana & Mrs. Lourdes Ocasio Quiñones
Mr. & Mrs. Massey & Cindy Villarreal
State Representative Armando Walle & Mrs. Debbie Walle
Mrs. Mayte Sera Weitzman
Mrs. Geraldina Interiano Wise &
Mr. Scott W. Wise
Mr. & Mrs. Russell & Monica Ybarra