ALMAAHH brings together national leaders in the Latinx Visual Art field to talk about the different points of view on Latinx Visual Art in the country. The conversation takes place in the context of ALMAAHH's inaugural  juried show of Latino Art "Latinx Artists for ALMAAH: We Are Houston."  Exhibition juried by: Maria C. Gaztambide, Executive Director and Chief Curator, Public Art of UH System and Gilbert Vicario, Chief Curator, Pérez Art Museum Miami. 
We are Houston is a juried exhibition of Chicano and Latinx art. Presented by Advocates of a Latino Museum of Cultural and Visual Arts & Archive Complex in Houston (ALMAAHH), The artists in We are Houston were selected by María C. Gaztambide, Executive Director and Chief Curator, Public Art of the University of Houston System, and Gilbert Vicario, Chief Curator, Perez Art Museum Miami. The works in the exhibition span diverse mediums and conceptual touchpoints that demonstrate the wealth of artistic excellence in contemporary art in Houston. Abstraction, figuration, tradition, and innovation are exemplified through 65 artworks by 33 artists living, working or originating in Greater Houston. Loosely defined themes—such as New Vernaculars; Places and Journeying; Life In-Between; Containment, Migration, Trauma; Gender, Self, Fluidity; Resiliency; Remaking and Making Do; and Earth and Cosmos—tie together this incredibly complex body of work.María C. Gaztambide, Gilbert Vicario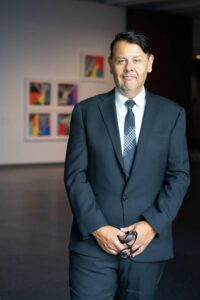 Gilbert Vicario is Chief Curator at the Pérez Art Museum Miami. Previously, he served as Deputy Director for Curatorial Affairs and The Selig Family Chief Curator at Phoenix Art Museum, and as Senior Curator and division head for curatorial affairs at the Des Moines Art Center. Upcoming exhibitions include Xican-a.o.x Body, with Cecilia Fajardo-Hill, organized for American Federation of Arts and traveling to The Cheech (summer 2023), Desert Rider, curated for Phoenix Art Museum and traveling to Denver Art Museum (summer 2023). Recent exhibitions include, California Biennial 2022: Pacific Gold, Orange County Museum of Art (2022); while at Phoenix Art Museum, Vicario organized the traveling exhibition and publication Agnes Pelton: Desert Transcendentalist (2019-2021) Ragnar Kjartansson: Scandinavian Pain and Other Myths (2018). In 2017, he organized the first mid-career survey and publication of the American artist Sheila Pepe titled Hot Mess Formalism (traveled to the Everson Museum of Art at Syracuse University, the Bemis Center for Contemporary Art, Omaha, and the de Cordova Sculpture Park and Museum, Lincoln, Massachusetts). Vicario has contributed to numerous exhibition publications, both nationally and internationally, including: Kehinde Wiley, Musea Brugge, Bruges, Belgium; Daniel Joseph Martinez, Cisneros Fontanals Art Foundation, Miami; T.C. Cannon, Heard Museum, Phoenix, AZ; California-Pacific Triennial, Orange County Museum of Art, California; Teresa Margolles, Padiglione d'Arte Contemporanea di Milano, Milan, Italy; as well as with Radius Books, Santa Fe, and Hatje Cantz Verlag.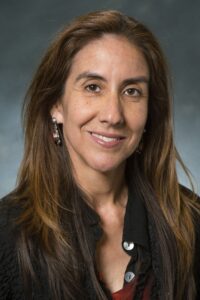 Dr. Susana Smith Bautista is a professional museum leader, and an art historian and curator in Chicano/Latino and Latin American Art, based in Los Angeles. She currently works at AltaMed Health Services as the Associate Vice President/Chief Curator of the AltaMed Art Collection, one of the world's leading nonprofit collections of Chicano art that has been exhibited in Mexico and Italy. Dr. Bautista received a Ph.D. in Communication from the University of Southern California and a Master's degree in Art History/Museum Studies with honors (Phi Kappa Phi). Her first book was Museums in the Digital Age: Changing Meanings of Place, Community, and Culture (2013), and her more recent one is How to Close a Museum: A Practical Guide (2021). She has taught at USC Annenberg School of Communication and Claremont Graduate University Arts Management Program, has been invited to lecture around the world, and published numerous articles and book chapters on the topics of museums, diversity, Chicano art, and digital technology. Her senior administrative experience includes the Mexican Cultural Institute of Los Angeles, USC Pacific Asia Museum, Pasadena Museum of California Art, LatinArt.com, and LA Plaza de Cultura y Artes. Dr. Bautista has been a Peer Reviewer for the AAM Museum Assessment Program, and an independent consultant on museum and arts organizational strategy and development for the University of Texas San Antonio and TeenTix LA. She curated solo exhibitions of numerous artists including Frank Romero, Carlos Almaraz, Einar and Jamex de la Torre, Delilah Montoya, numerous group exhibitions including artists such as Enrique Martinez Celaya, Ken Gonzalez Day, and Judith Baca, and advised the prominent Chicano art dealer Daniel Saxon as well as USC Fisher Museum on its 2002 group exhibition Mixed Feelings: Art and Culture in the Postborder Metropolis. She served on the national Board of Trustees for the American Alliance of Museums and was Arts and Culture Commissioner for the City of Pasadena, where she was born and raised.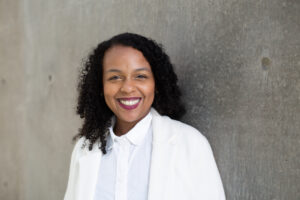 María Elena Ortiz is curator at The Modern in Fort Worth. Previously, she was curator at the Pérez Art Museum Miami (PAMM), where she curated several exhibitions including Allied with Power: African and African diaspora art from the Jorge M. Pérez Collection, The Other Side of Now: Foresight in Caribbean Art, Teresita Fernández: Elemental, American Echo Chamber: José Carlos Martinat,  william cordova: now's the time, Beatriz Santiago Muñoz: A Universe of Fragile Mirrors, Ulla von Brandenburg: It Has a Golden Sun and an Elderly Grey Moon, Firelei Báez: Bloodlines, and Carlos Motta: Histories for the Future, among others. Her exhibitions have traveled to prestigious institutions including the Andy Warhol Museum, Pittsburgh; El Museo de Barrio, New York; and the DePaul Art Museum, Chicago. At PAMM, she founded and spearheaded the Caribbean Cultural Institute (CCI)—a curatorial platform dedicated to Caribbean art. During her tenure in Miami, Ortiz worked to diversify the museum's collection, securing works by Simone Leigh, Bisa Butler, Bony Ramirez, and others. She developed significant public programs, such as At the Crossroads: Critical Film and Video from the Caribbean and Latinx Art Sessions, along with other symposia related to exhibitions. Formerly, Ortiz was curator of contemporary arts at the Sala de Arte Público Siqueiros in Mexico City. Along with her catalog contributions, she has contributed to writing platforms such as the Davidoff Art Initiative, Fluent Collaborative, Curating Now, and Terremoto Magazine. In 2014 she was awarded the Colección Patricia Phelps de Cisneros (CPPC) and Independent Curators International (ICI) Travel Award for Central America and the Caribbean, and she received the Emerging Curator Award from the Museum of Latin American Art, Long Beach, California, in 2012.